Today is National Teacher Appreciation Day!
As a former teacher who grew up idolizing her teachers, I truly, truly believe that our teachers are the hardest-working, most wonderful people in the world… and am thrilled to have an official day on which the celebrate all the fabulous educators out there!  In case you don't hear it enough today and every day, THANK YOU for all you do!
On a recent trip home, my mom asked me to sort through some of my "treasure boxes" (a kind way to refer to my pack rat collection of memories from each year of my life through college!).  As I sorted through these artifacts, deciding which best told the story of my childhood, I found my "save pile" consisted more of the notes, letters, and reports from my teachers than the increasingly artistic scribbles and schoolwork produced by yours truly!
I was incredibly lucky to spend my formative years at the wonderful and nurturing Capitol Hill Day School (any alums out there?!), and to this day think of every teacher I had from PreK to 8th grade as if they were part of my family.
The notes I saved in my Treasure Box include letters my teachers sent over the summer telling me how excited they were to have me in their class in the fall, postcards gushing over a turtle magnet I'd made from a walnut shell and scrap of felt, a card inviting me to join my favorite teacher for a special lunchtime chat when my new sister was born… and pages and pages of handwritten reports from my teachers to my parents, describing their observations, ways to support the learning I was doing, things I needed help with, successes they'd observed… there were piles of these notes I found saved from each year of my childhood… and together they tell a powerful story about the enormous role these teachers had in shaping who I am today… treasures indeed!
Take a moment today to think about, and better yet to THANK, the amazing teachers in your life, whether they are colleagues who inspire you, classroom teachers who enrich the lives of your children each day, professors, your dog's trainer, scout leaders, religious school teachers, your yoga instructor… just say THANK YOU!
As an aside, couldn't resist sending this slightly snarky Teacher Day Card to a dear friend and high school teacher…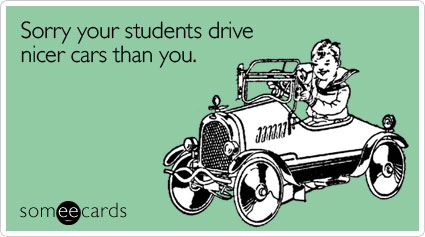 Who was your favorite teacher growing up?  Share your teacher shout-outs and thank your favorite teachers here!